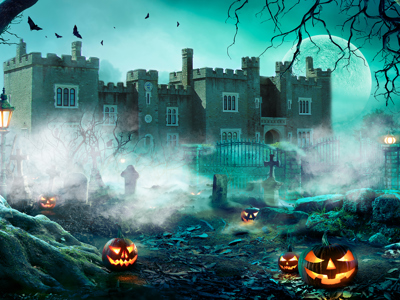 Halloween at Watermouth Castle
🦇 A Haunted Halloween at Watermouth Castle... 🦇
This October, come along and join us at Watermouth Castle for some eerie Halloween fun! Collect your activity card at the entrance to get started...
October:
7th & 8th / 14th & 15th
21st - 31st
What's On...
🎃 The Great Halloween Challenge 
Take part in our interactive Halloween quest, set in the spooky castle, and filled with eerie mysteries and ghostly challenges.
Follow the clues, solve the riddles, meet the many creepy inhabitants of Watermouth Castle, and ultimately reveal the magical location and claim the ultimate Halloween prize!
Beware, brave adventurers - your journey starts in the dept of the dungeons...!
🔎 Trick or Treat trail
Go on a treasure hunt to find the the 10 hidden Halloween gnomes! Once you've found them all, hand in your activity card, and claim your prize...
💎 Find the hidden gems
Help our gnomes collect their lost crystallite! Follow the trail through the Gnome Village and beyond to hunt for one of the missing green gems. Bring one back to the castle base camp, and collect your reward. Good luck, crystallite hunters!
🐛 Bug Brunch
Who's hungry - for bugs, that is? Our bug brunch contains real insects! Try some s-bug-hetti bolognese, or a no-prawn critter cocktail... Anyone who takes on the challenge and can finish all 3 courses will get their very own medal of honour!
When: 2pm | Where: The Courtyard
🦇 Badge Making
Design and decorate your badge, and one of our amazing team will transform it into your very own wearable badge to take home with you!
Where: Courtyard Café
Book your day tickets for Halloween now