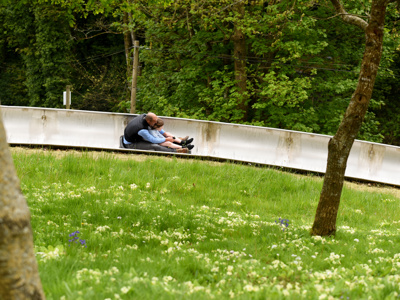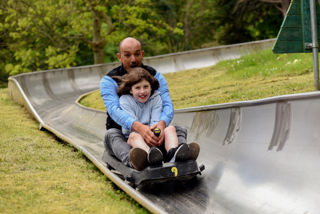 Ready, set, go!
Take on the Toboggan Run for 250 metres of downhill thrills!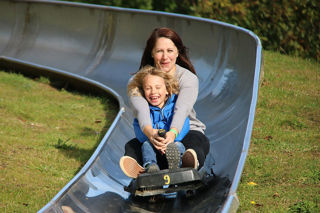 The Toboggan ride costs an additional fee - £2.50 for two turns. 
Due to the popularity of the toboggan, it is strongly recommended that you book your toboggan session online in advance whilst booking your admission tickets to avoid disappointment. The toboggan is an optional add-on product; availability can be checked after you have selected general admission tickets for the date you wish to visit.
Each toboggan can carry up to two people - one adult and one child. The toboggan is charged per turn, not per person. 
The toboggan will not operate in wet weather.
1.4m+ can ride alone | Children between 92cm – 1.4m must ride with an adult | Children under 92cm are not permitted to ride.
Tickets are non-refundable and non-transferable, with the exception of wet weather, whereby the toboggan will close. If you have booked toboggan tickets and the toboggan is closed due to wet weather, these tickets will automatically be exchanged for virtual gift vouchers which can be spent in the gift shop. Simply show your toboggan booking to the team member in the shop to claim this offer. 
Number on map: 26